Imagery Estate Winery
Advertising, brand positioning
Imagery Estate Winery offers one of the most diverse and risk-taking portfolios of small-production wines around — including an award-winning estate Cabernet blend, a White Burgundy, and a wide array of unusual varietals like Mourvèdre, Lagrein and Pinot Meunier — showcased in a stunning modern setting graced by original works of art commissioned and curated especially for the Imagery label.

Unfortunately, vague, monochromatic advertising and lack of clear positioning didn't communicate any of this.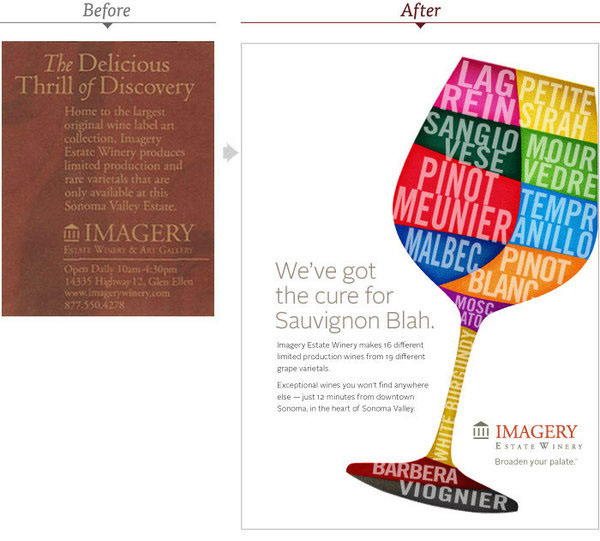 The 'Broaden your palate' tagline positions Imagery as the choice for wine lovers who are ready to take a few risks and add uncommon choices to their cellars — the pun on 'palate/palette' integrates wine and art, turning what could be perceived as a split focus into a multifaceted brand personality. Completing the transformation is a vivid brandmark — a wine glass composed of Imagery's more esoteric varietals — that combines with cheeky headline copy to stand out from the crowd in Sonoma Valley.