ADVERTISING: Roku
Print and online advertising for Roku.
Brand-building doesn't always go hand in glove with online sales of a first-of-its-kind product that takes a bit of explaining. But Roku's early print ads achieve a high-end feel by using boldly cropped photos and lots of white space, while still including plenty of copy to educate consumers about the products — and deliver on the client's request for a "Bose-like, but also Apple-like" ad.
The addition of atmospheric life-style imagery in later ads and collateral continued the evolution of the Roku brand, adding depth and texture without losing the simplicity and focus on the product that made Roku the category leader.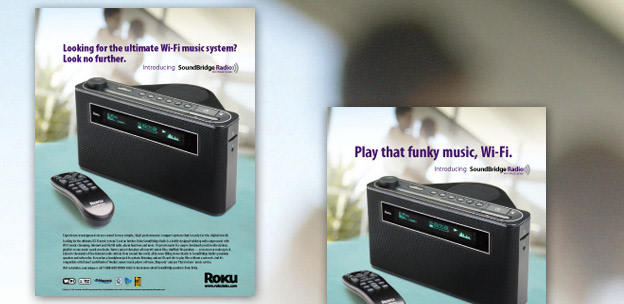 Direct emails focus on different aspects of Roku's unique offerings. For sneak preview emails, an actual rendering by the industrial designer conveys the "from scratch" nature of this small startup, hinting at the product design wthout giving anything away. The smiling little girl not only ties to the idea of a sneak preview, but also conveys the products' friendliness and ease of use. And the unprecedented tubular shape of Roku SoundBridge speaks for itself.